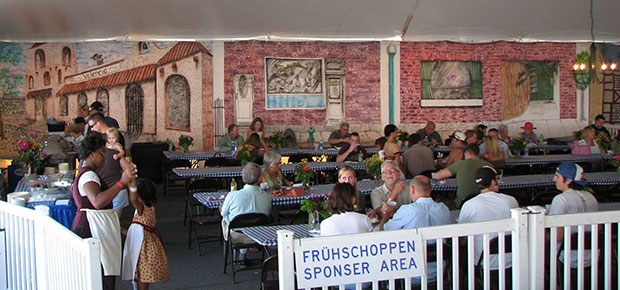 Sponsorship Packages
Consider becoming a sponsor of Augustoberfest! Click here for the full 2021 Augustoberfest Sponsor Package.
Again this year we'll celebrate with Augustoberfest! This will be the 25th anniversary. We would first like to thank you for your consideration of supporting this important event that pays tribute to our area's rich German heritage and supports scholarships for exchange students to Hagerstown's Sister City — Wesel, Germany. Your donation will help to defray the significant costs of this exciting event run by the nonprofit organization, the Augustoberfest Charitable Foundation. This event could not occur without the generous donations of its sponsors.
For the 25th Anniversary of Augustoberfest, we will have a two-day festival that boasts festivities found at traditional Oktoberfest celebrations in Bavaria. The event will be on Saturday, August 21, 2021 from 11 a.m. to 10 p.m. and Sunday, August 22, 2021 from 11 a.m. to 5 p.m. The attendance of this event has doubled in size over the last two years and is becoming one of the most anticipated festivals in the region.
On both Saturday and Sunday, participants will have a chance to enjoy Bavarian food, entertainment and fun. All of our entertainment offers a glimpse into German culture and folklore through authentic music, dance and songs. All of these entertainers are crowd pleasers.
The popular Frühschoppen, or German brunch, will continue this year for sponsors and features all the best of Bavarian food and drink. Sponsorship packages at the $1,500 level and above now include tickets for delicious food and drink at the Sunday event held between 11:00 a.m. and 2:00 p.m.
In addition, an expanded children's entertainment area will feature a variety of activities and entertainment for the youngest German enthusiasts. A craft vendor area promises an abundance of holiday and decorative items.
Please take a moment to read the enclosed information regarding our sponsorships and the benefits of being a sponsor. We have also enhanced our sponsorship levels to include more tickets for our sponsors and their employees! Contact Jill Colbert at gsblackbeltmom@gmail.com or Augustoberfest@hagerstownmd.org with questions, or simply complete the attached Sponsorship Contract and mail it with your firm's check.
Again, thank you for your consideration and for being part of this wonderful tradition.
Very truly yours,
The Augustoberfest Charitable Foundation