Potomac Region, Porsche Club of America Show @ Augustoberfest on Sunday 8/21/22
We are proud to announce the Potomac Region, Porsche Club of America will have an onsite car show at this years 25th Anniversary Augustoberfest event. The show will be held on Sunday, August 21, 2022 from 11AM-5PM. To learn more about the Potomac Region, Porsche Club of American, please visit https://pcapotomac.org/.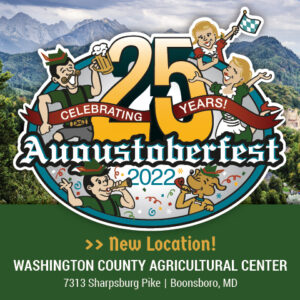 2022 FESTIVAL TO BE HELD AUGUST 20 & 21 AT NEW LOCATION
The Augustoberfest Charitable Foundation ("the Foundation") has announced their 25th Augustoberfest Anniversary Event will be held on August 20 & 21, 2022 at the Washington County Agricultural Center, located at 7313 Sharpsburg Pike, Boonsboro, MD 21713. This is a monumental year for the festival, and the Foundation is very excited for the location change as it will allow more space for everyone to enjoy this incredible event that pays tribute to the local area's rich German heritage.
There will be a $10 general admission fee, however no fee for children 12 and under, and parking is free. New for 2022 will be online ticket sales, which will be available for purchase at www.augustoberfest.org and are expected to begin by early May. Admission can still be paid at the entry gate with cash or card…MORE
Get involved – become a volunteer!
Augustoberfest is always on the lookout for volunteers!
The event has continued to grow in size and so has our need for volunteers.  This is truly a FUN EVENT!! There is tons of German food, music, and good times. Sign up as an individual or as a corporate team. We are looking for food and beverage servers, cashiers, volunteer check-in, and food runners. Volunteers receive a t-shirt and a meal voucher in exchange for their service – not to mention being a major part of what makes Augustoberfest so successful.
Fill out our online volunteer form here.