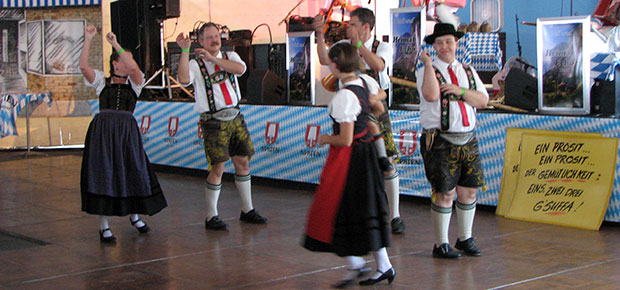 Sunday Schedule
German Car Show
10:30 a.m. to 2:30 p.m
Sunday only, 10:30 a.m. – 2:30 p.m. Back by popular demand, members of PCA Potomac's Porsche Club will be displaying their cool cars in the parking lot area at the festival's entrance for a low key "People's Choice" car show. The BMW and Mercedes Benz clubs have also been invited. So don't miss this opportunity to see some of Stuttgart's and Munich's nest automobiles.
Hospitality Tent Opens
11 a.m.
Central Parking Lot
Musical Entertainment
11 A.M. to 5 P.M.
Heidi und Heimat Echo
Alt Washingtonia Schuhplatter Verien
Die Schlauberger ( 2 P.M. to 5 P.M.)
FRÜHSCHOPPEN – GERMAN BRUNCH
11 A.M. to 2 p.m.
Enjoy the nest Bavarian food and drink at this exclusive German Buet. Frühschoppen tickets sold separately. Limited availability. For prices and to reserve your tickets, call: 301.739.8577, ext. 116
Children's Area
11:30 a.m. to 4:30 p.m.
Highlights include: Horn's Punch and Judy Show, magic show, arts & crafts activities, and storytelling.
Be sure to visit our dessert and craft vendors!