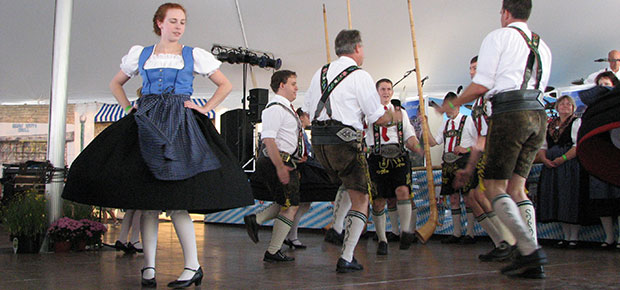 Saturday Schedule
2018 Schedule
Saturday, August 18
A full day and night of music and dance with some of the best entertainers around!
Heidi und Heimat Echo Showband provides an authentic Ger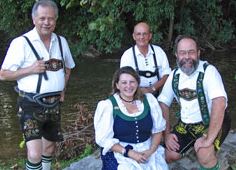 man cultural musical experience, with costumed musicians playing the sounds of Germany from yesterday and today with traditional instrumentation (accordion, bass, drums, brass, alphorn, and cowbells). Song-sheets are often handed out to the audience so they can sing along with traditional German drinking songs and a few German-American favorites too!
The "Alt Washingtonia" Schuhplattler Verein has been preserving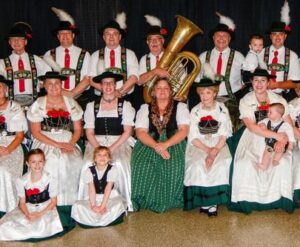 authentic Bavarian schuhplattler dances, songs, customs, and costumes, for over four decades.  It is dedicated to spreading cultural knowledge in order to enhance understanding between countries, and at every event they educate audiences about Bavarian and Austrian history and culture. Alt Washingtonia's members have had the opportunity to perform and educate at such notable venues as the White House, the Cherry Blossom Parade, the German Embassy, the Smithsonian Folk Life Festival, and the Munich Oktoberfest.
Die Schlauberger is America's number one German Band – a powerhouse of musical expertise with enough energy to light up an entire festival! From the moment they step on stage until they have wrung the final note from their last song, die Schlauberger has the audience up and dancing to its powerful renditions of German favorites and other crowd-pleasing tunes. Don't miss the band whose very mission is "Keeping the Traditionalists on their Feet and the New Generation Interested.
Children's Area will feature arts and crafts activities, a Punch and Judy show, a magic show, and fairytales.
Volksmarch organized by the Antietam Pathfinders Volksmarch Club begins at 8 am at the Festival entrance gate. Walkers can opt for a 5k or 10 k walk. Info: contact Ann Shilling-Gwinnutt at 301-302-5810 or by email  (annshilling08@gmail.com). Saturday only.
ENTERTAINMENT SCHEDULE (subject to change)
11:00 am-1:00 pm: Heidi und Heimat Echo Showband
1:00-1:30 pm: Alt Washingtonia
1:30-2:00 pm: Heidi und Heimat Echo Showband
2:00-2:30 pm: Keg Tapping Ceremony – Official Augustoberfest Kick Off!
2:30-2:55 pm: Alt Washingtonia
2:55-3:35 pm: Heidi und Heimat Echo Showband
3:35-4:15 pm: Alt Washingtonia
4:15-5:00: Heidi und Heimat Echo Showband
6:00-10:00 pm: Die Schlauberger
Click here for Sunday schedule
The children's area will be open in the afternoon, complete with the Punch and Judy Show*, fairytales, crafts, and a magic show!
*Horn's Punch & Judy Show is the oldest Punch show in America. This show was started in Baltimore in 1897 by a man named Edward Ross. All of the Punch performances begin and end with merry tunes from Professor Horn's hand-cranked, organ-grinder's music box. Including the music, the total length of the show is 20 minutes.
Be sure to visit our dessert and craft vendors!